December 6, 2022
CMMS
The Best Work Order Software Apps for Maintenance Pros
Work order software can dramatically improve business operations, decrease downtime, automate complex workflows, and simplify preventative maintenance (PM). For decades, platform providers almost exclusively partnered with large organizations within the fleet, manufacturing, and facility maintenance industries. Why?
Not all that long ago, the customized nature of software solutions required substantial resources to create, install, and maintain. Dropping thousands of dollars on a work order software program, or a Computerized Maintenance Management System (CMMS), was a smart investment for a company that had already invested millions in assets. Conversely, maintenance departments with small budgets saw work order management software as a luxury they could do without.
But that's all changing thanks to modern cloud infrastructure. Today's best maintenance platforms are scalable, affordable, and sometimes even free.
The Best Work Order Software Apps for Maintenance Pros
What Is Work Order Software?
Work order software is a management system designed to streamline maintenance, inventory, and operational tasks across organizations. It also includes standard operating procedures (SOPs), production workflows, quality control, and safety inspections.
Maintenance managers can maintain full visibility of the work performed across their organizations at all times while creating, assigning, and tracking work orders from both mobile apps and desktops. However, more than 75 percent of companies still use spreadsheets, paper, clipboards, or nothing at all for maintenance management, according to the Maintenance Management Buyer Report.
Types of Work Order Management Software Systems
To determine which type of work order management software system is best for your organization, it's helpful to understand their differences. Companies with heavy, on-premise maintenance requirements most benefit from CMMS solutions. Alternatively, commercial service companies may require a field service management tool capable of GPS tracking. Below are the three main types of work order management systems.
1. Basic Work Order Software Systems
Maintenance work order systems are designed with a simple mandate: assign, track, and record work orders. This allows for both work order creation and real-time progress updates through one centralized platform. These work order management solutions are specifically designed for small businesses with simple management processes 
However, in recent years, some Software as a Service (SaaS) providers have taken on a revolutionary challenge: designing work order software that perfectly balances ease of use with advanced-feature functionality. These cloud-based platforms are blurring the lines between basic work order software systems appropriate for small businesses and our next category: Computerized Maintenance Management Systems (CMMS), which are ideal for both SMBs and enterprise companies.
Check Out: The 7 Must-Have Work Order Software Features.
2. Computerized Maintenance Management System (CMMS)
CMMS software was originally designed for organizations responsible for maintaining large numbers of critical equipment and assets. Industrial plants, manufacturing facilities, and mining companies are longstanding users of CMMS. However, in recent years, facility management, food service, hospitality franchises, and more have also implemented CMMS programs.
The platforms are complete maintenance management systems that include capabilities for organizing strategic preventive maintenance, predictive maintenance, and reactive maintenance programs. The software also provides labor time tracking, historical metric reporting, and real-time insights that can translate into O&M cost-saving opportunities. From preventive maintenance schedules to parts inventory, CMMS systems are invaluable for operations that depend on critical assets. As previously mentioned, today's cloud-based CMMS solutions are more versatile than their predecessors.
The cloud-based software is stored on multiple servers that allow providers to deliver more affordable, scalable, and reliable user experiences than ever before. Translation: Monthly, per-user pricing plans that don't break the bank. The best CMMS programs are available for mobile users on both iOS and Android.
3. Field Service Management (FSM)
FSM systems are designed for companies with field teams. If your organization needs to assign and track field technicians, salespeople, or other dispatch team members, FSM might be the right choice for you. Many of these systems include invoice management features that help convert your work order tickets into billable invoices once completed. They also help plan routes and share any relevant information, files, etc., on the fly. However, FSM software does not offer the full range of features that CMMS like MaintainX offers.
Top 3 Work Order Software Apps
In this work order software app review, we've compiled information on the top free work order software based on customer reviews, user experience, and functionality. We have included a variety of the top work order software solutions that include simple Work Order software, CMMS software, and field service management software. Though each option offers premium paid plans that come with more advanced features, the freemium versions are capable of a surprising amount of heavy lifting for small maintenance teams.
1. MaintainX
MaintainX is the world's first work order software solution designed with real-time chat functionality and one of the world's first platforms designed specifically for smartphone usage. The app provides an integrated CMMS solution, including everything you need to create, assign, and track maintenance and work orders; execute preventive maintenance programs; document Standard Operating Procedures (SOPs); manage inventory; maintain asset logs; track work requests and maintenance requests; create invoices; and track KPIs. 
MaintainX also includes API integration capabilities that allow external sensors to trigger Work Orders and can push data back to ERP systems. The CMMS stands as the most comprehensive maintenance management software platform for mobile, tablet, and desktop devices. MaintainX has acquired a substantial amount of positive reviews from customers in both the Apple App and Google Play stores.   
Noteworthy Features:
Instant Messaging: Segment chat conversations by individuals, groups and teams, departments, topics, and more. 
Work Order Commenting: Chat with technicians directly within individual work orders to troubleshoot in real time. 
Photo Uploading: Workers can upload (and mark up) photos of equipment failures, parts issues, or maintenance quandaries to better illustrate to management what is happening. 
User-Friendly Interface: The MaintainX mobile app is one of the most intuitive, user-friendly work order systems on the market right now. The interface is sleek, quick, and easy to navigate. 
Seamless Integration: Switch back and forth between desktop and smartphone use in real-time without losing progress. 
E-Signatures: Technicians can sign off on completed jobs for additional accountability, in addition to the app's time stamp feature.
Free Plan Includes:
Unlimited work orders
Unlimited team messages
Unlimited assets and locations
Unlimited Web and mobile access
Purchase Order feature
5 work orders with photos per month
2 work orders with forms per month
1 month's worth of reporting and analytics
Potential Drawbacks:
No custom user permissions on the free plan
No API access on the free plan
Industries Using MaintainX:
Manufacturing, Industrial, Facilities Management, Property Management, Government, Schools, Hospitality, Fleet Management, Quick-Serve Restaurants, Warehouses, Churches, Retail, Safety/EHS, Building Maintenance, SMB to Enterprise.
Best Suited For:
Organizations of all sizes needing a user-friendly work order app that workers can quickly navigate without extensive training.
Teams wanting to adopt a centralized instant messaging system to improve communication.
2. UpKeep
UpKeep is another maintenance software mobile app. The app allows maintenance teams to create and manage recurring maintenance tasks, track inventory, run billing/invoicing, manage calibrations, control keys/locks, and more.
UpKeep also allows managers to assign work order processes with varying priority levels so tasks can be completed from most important to least important. However, many of UpKeep's most compelling features are only available to paying customers. The starting price point for the basic plan is $35 per user per month.
It's worth mentioning that UpKeep's freemium version was created with the goal of allowing users to "try before they buy," and isn't meant to be a complete CMMS solution. As such, the work order software app is best suited for individual technicians wanting to organize their daily tasks.
Noteworthy Features:
User-Friendly Interface
Asset Management
Free Plan Includes:
Unlimited work orders
Unlimited assets and locations
Unlimited Web and mobile access
Potential Drawbacks:
Can't assign work orders to team members
Can't view work order history
No access to advanced reporting data
No File/PDF work order attachment
Industries Using UpKeep:
Property Management, Fleet, Hotels, Oil & Gas, Construction, Municipalities, Warehousing, Restaurants, Churches, Education, Food Processing, Packaging
Best Suited For:
Individuals who don't need to assign work orders to others, simply want to better organize their daily tasks, and don't need to refer to them once they are completed.
3. Jobber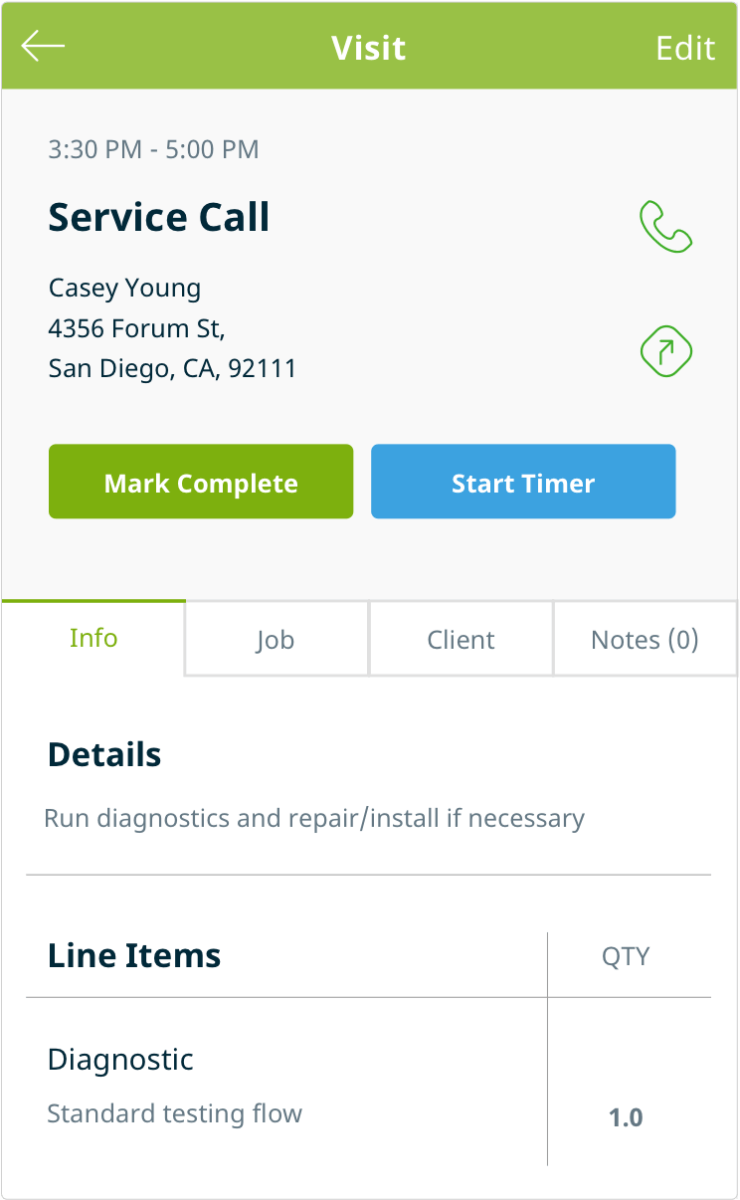 Jobber is ranked as our top field service management app (FSM). It has a work request and scheduling platform tailored for service providers. Founded in 2011, Jobber focuses on helping small businesses with dispatch-related work.
The app makes it easy to build and delegate work orders by offering a drag-and-drop calendar. The app also helps with client work request intake by automatically creating new work orders that can be assigned to a team member. Customers who have the highest level of satisfaction are those who need to be able to manage employee schedules and client invoices.
Noteworthy Features:
Dedicated Mobile App
Built-In Client/Customer Relationship Manager (CRM)
Invoice Management
Paid Plan Includes:
Client/Customer Relationship Manager (CRM
Quotes
Invoicing
Potential Drawbacks:
No free plan
No asset management
No parts or inventory management
Industries Using Jobber:
Carpet Cleaning, Chimney Sweep Services, Elevator Services, Garage Door Services, Janitorial Services, Junk Removal, Locksmith Services, Pest Control, Pool & Spa Services, Pressure Washing, Snow Removal, Tree Care, Window Cleaning
Best-Suited For:
Commercial service businesses that need to dispatch work and send invoices.
Choosing the Best Work Order Software App for Mobile
We hope you have enjoyed our work order software app review. As you can see, work order software is now more affordable, functional, and accessible than ever before. Unless your organization has uniquely complex maintenance needs, choosing the best CMMS often comes down to personal preference: What features do you absolutely need? And which ones can you live without? 
The thing is you often don't know until you begin creating and managing your own procedures, checklists, and templates. For this reason, we recommend downloading the apps that appeal the most and making the decision based on what you would most enjoy using every day.